Share

immediate feedback.


Observe

professional growth.
Streamline your classroom observations and create high-quality learning environments with our mobile app and website.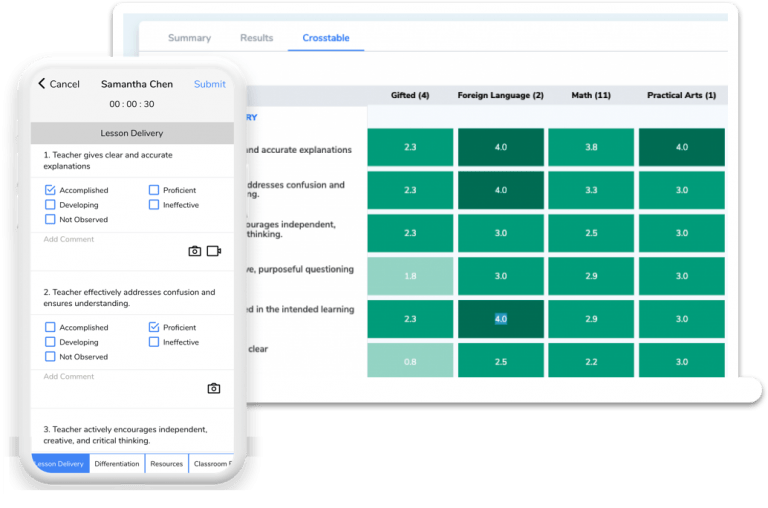 Trusted by instructional leaders in over 2,500 schools

Assistant Superintendents
Observe and drive strategic alignment across teams and educators

Set goals and lead their team of educators to deliver effective instruction to students
Support and coach teachers to create high-quality learning environments
Quick, meaningful, effective feedback starts the conversation and cultivates reflection, leading to instructional improvement.
Choose a template or create your own
You can use our standard walkthrough template based on the Danielson Framework or create your own using our Template Editor.  Customize the domains, question types, and even add photo and video artifacts for each walkthrough.
Open your app on your IOS or Android device or computer and click Start. Select your template, teacher, grade, department and class then tap Start. You will see the teacher name and a timer start counting, which keeps you accountable for your time in the classroom being short and informal.
With your walkthrough answers and comments entered, you are ready to submit. Once you do this, you can add general comments and email the completed walkthrough to the teacher.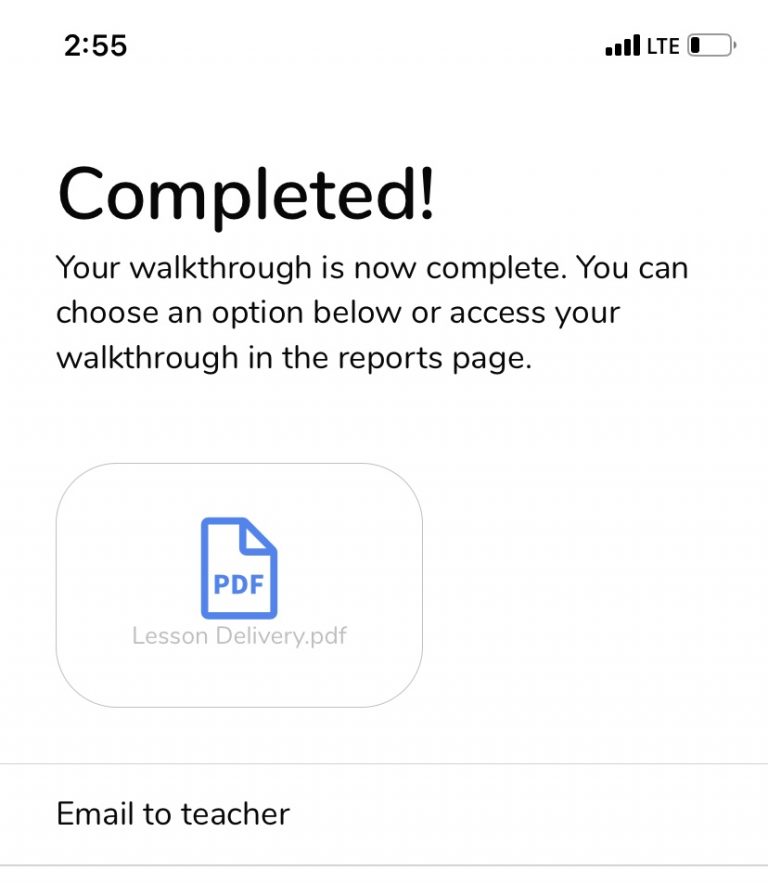 Identify growth opportunities
After your team has completed walkthroughs, you can leverage the power of our analytics to identify patterns and areas of growth. These reports and visualizations will give you data to ask questions and take action.

I am the principal of a small school, and I've been using Education Walkthrough for about 6 months. What I love about this app is that it allows me to see my teachers' progress and provide them with feedback when they need it most. The only downside is that there is no teacher portal for teachers to see their progress. I hope they put one in for the future! 🤞
Kristie Cassel
My district had its own clunky system that they forced us to use. When I found Education Walkthrough, I was like BOOM – that's it! I got my whole team using it now, and it is outstanding. Plus, their customer service is A+.
Tonya Davis
I have been an instructional coach 7 years now, and I found myself spending more and more time writing observations. It was not only time consuming but it started to feel like a chore. A friend of mine told me about Education Walkthrough and I immediately signed up. It has now became my go-to tool for documenting observations!! ⭐ ⭐ ⭐ ⭐ ⭐
Brooke Banks
Finally got around to trying out Education Walkthrough and immediately subscribed. So simple to use – wish there were more tools like this for admins.
Ava Welsh

I love the fact that this app makes it easy to document and share immediate feedback with teachers. I've been using this app for a few months now. I would definitely recommend it to anyone who does observations.
I am an instructional coach, and I have to say, Education Walkthrough is a lifesaver. I used it to document how one of my teachers was doing in an English class. It helped me get a better idea of what she struggled with and we were able to work together to find solutions.
Sara Chen

The app is highly intuitive, which makes it easy to get started and use. No training to use, just downloaded it, made an account, and started doing walkthroughs.
Madeline Doyle

It has been a true joy to use Education Walkthrough! As somebody who spends a lot of time in the classrooms, I was skeptical at first because it is so different. But after watching the videos and trying the free version out, I was hooked. The best part? It keeps all the observations all in one place!
Aaron Bardet
There are so few tools out there on classroom walkthroughs, and the few that are just focus on a specific walkthrough model. I love that Education Walkthrough has customizable templates that can be shared with my whole team and other schools in my district.
Andy Bicknel
Schedule a demo with one of our friendly team members.