Education Walkthrough Blog
A blog about teaching, leadership and education for teachers, administrators, educational leaders and anyone who is committed to improving student achievement. We publish articles on classroom walkthroughs, teacher coaching, classroom management strategies and instructional methods focused on improving academic performance in the areas of reading, writing, math and science.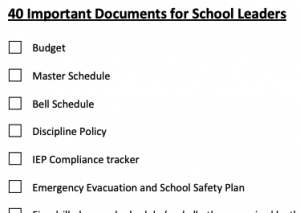 Educational Leadership
School leaders must be prepared for the upcoming school year before it even begins, which means creating and reviewing numerous documents in advance. These documents are critical for ensuring that schools have the resources to provide high-quality education to all students.
Download PDF
Read More